Heythrop is a village and civil parish just over 2 miles east of Chipping Norton, Oxfordshire. The parish includes the hamlet of Dunthrop.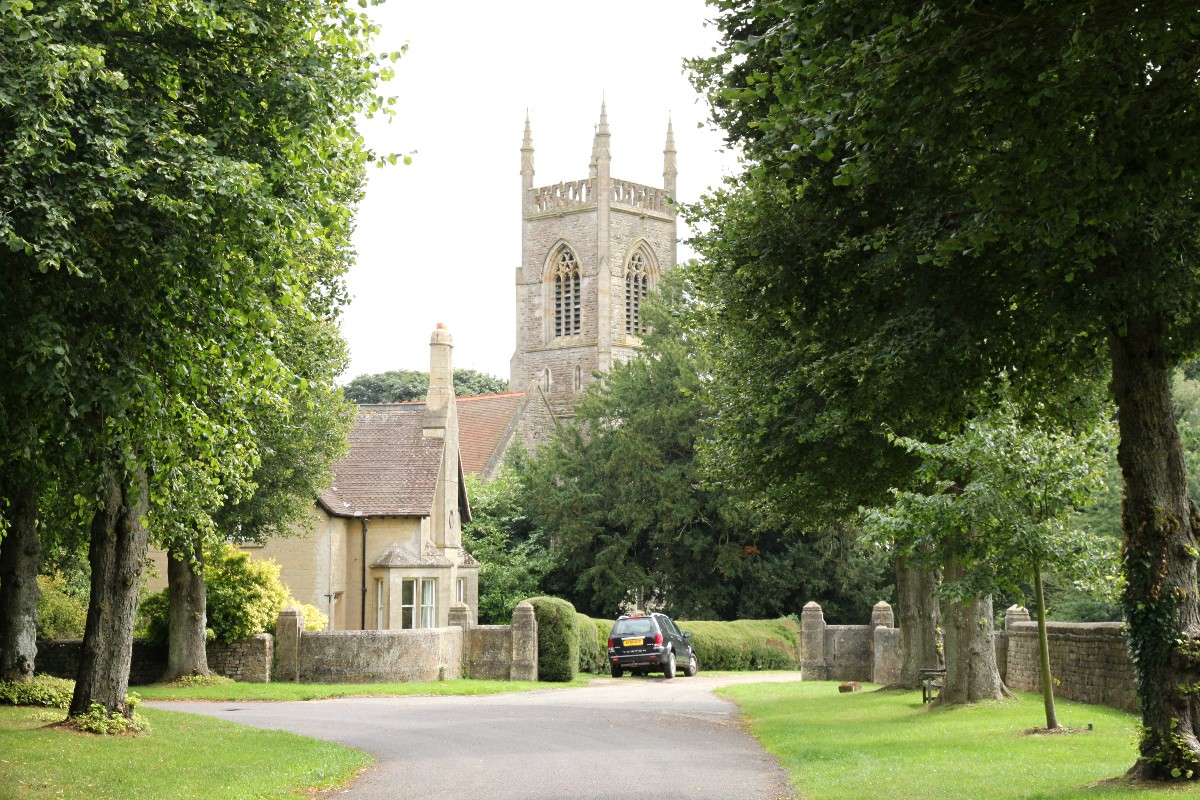 FIRST WORLD WAR
CHARLES FREDERICK CANNING was serving as a Private with the Queen's Own Oxfordshire Hussars when he died of wounds received on 11th December 1917. He was aged 20 and is buried in Etaples Military Cemetery.
He was the son of Fred and Sophia Canning, of Southcombe, Chipping Norton, where his father was a blacksmith.
He enlisted into the QOOH in early 1915 and joined the 1/1st in France on 14th December 1915. As part of the 2nd Cavalry Division they were held in reserve throughout 1916. Between 9th and 11th April 1917 they took part in the First Battle of the Scarpe, a phase of the Battle of Arras. On 20th November they were in support of the tank attack at the Battle of Cambrai, waiting to exploit gaps and sweep round Cambrai. They went on to fight in Bourlon Wood where they experienced close hand vicious fighting before being driven back by concentrated artillery fire. On 30th November the Germans counter attacked the salient the British had seized and Private Canning was wounded by a gun shot wound to his left femur on 2nd December during this attack. He was evacuated from the field to hospital in Etaples, where he died.
CHARLES BERTRAM FOWLER was serving as a Private with "D" Squadron, 1/1st The Queen's Own Oxfordshire Hussars when he was killed in action on 24th October 1918. He was aged 22 and is buried in Romieres Communal Extension
He was the son of Charles and Louisa Fowler of Gas Cottages, Heythrop and had worked as a farm hand, his younger brother was killed in 1918, (below).
He enlisted into the QOOH in early 1915 and joined the 1/1st in France on 26th October 1915. On 1st December 1915 he was hospitalized for 5 days with scabies and diphtheria in 7th General Hospital in Etaples. As part of the 2nd Cavalry Division the QOOH were held in reserve throughout 1916. Between 9th and 11th April 1917 they took part in the First Battle of the Scarpe, a phase of the Battle of Arras. On 20th November they were in support of the tank attack at the Battle of Cambrai, waiting to exploit gaps and sweep round Cambrai. They went on to fight in Bourlon Wood and against the German counter attack. In 1918 thy defended against the German Spring Offensive in the Battles Of St St Quentin and the First and Second Battles of the Somme. They then took part in various phases of the Battle of the Hindenburg line and pursued the Germans to the Selle. Private Fowler was killed during the Battle of the Sambre, part of the final advance into Picardy, when "D" Squadron had sent patrols forward from Escarmain to Ruesnes, where they met heavy machine-gun fire.
HAROLD ROBERT FOWLER was serving as a Gunner in "D" Battery, 282nd Brigade, The Royal Field Artillery when he was accidentally killed on 2nd December 1918. He was aged 21 and is buried in Bougnies Communal Cemetery in Belgium.
He was the son of Charles and Louisa Fowler of Gas Cottages, Heythrop, his older brother was killed in 1918, (above).
WILFRED FRANK GUNTRIPP was serving as a Corporal in the 61st Battalion, The Machine Gun company (Infantry) when he was killed in action during the Battle of St Quentin on 21st March 1918. He was aged 23 and is commemorated on the Pozieres Memorial for those with no known grave.
He was the son of William and Jane Guntripp of Checkley, Staffordshire and had worked as a farm labourer. He was an estate worker in Heythrop before the war.
He enlisted into the 9th (Service) Battalion, The Nottinghamshire and Derbyshire (Sherwood Foresters) Regiment in Derby on 19th August 1914. He was promoted to Lance Corporal on 16th April 1915. He embarked at Liverpool in July 1915 and landed at Suvla Bay on 7th August 1915. On 10th August he was wounded in action with a gun shot wound to the left arm, causing a compound fracture to his left humerus. He was treated in the 14th Casualty Clearing Station before being invalided home on 4th September 1915, and treated in 2nd Western General Hospital in Manchester.
He returned to his Battalion at the end of 1915, now based at Murdos on the Greek island of Lemnos. It was here he was deprived of his Lance Corporal's stripe on 8th January 1916, for neglect of duty whilst in charge of a tent. On 3rd March he was transferred to the 33rd Battalion, The Machine Gun Company in Sidi Bishr, Alexandria as part of the 11th (Northern) Division. The Division received orders to proceed to France and on 28th June 1916 he embarked on HM Troopship Minnewaska, arriving in Marseilles on 8th July. They took part in The Battle of Flers-Courcelette and The Battle of Thiepval, actions of the Battle of the Somme. Operations continued in the Ancre area into 1917 and Private Guntripp was wounded in action by gun shot wounds to the left leg, on 20th January 1917. He was evacuated to 11th Casualty Clearing Station then to hospital in Le Tourquet. On 31st January he was invalided back to England on HM Hospital Ship Brighton below.
He was treated in Fort Pitt military hospital in Chatham until 20th March 1917. He was posted back to France on 13th September. He was posted to 61st Battalion MGC on 16th September and saw action in the Third Battle of Ypres, being promoted to Corporal during the battle. On 21st March 1918 his company was manning positions in front of the old Somme battlefields when they were attacked by overwhelming numbers of the enemy. This was the beginning of the German Spring Offensive. Bolstered by troops freed up from the Eastern Front by the surrender of Russia, this was an attempt by the Germans to win the war before the Americans arrived in numbers. The were forced to fall back, suffering heavy casualties. Corporal Guntripp was reported as missing presumed dead the following day.
GEORGE THOMAS HARRIS was serving as a Private in the 1st Battalion, Princess Charlotte of Wales Royal Berkshire Regiment when he died of wounds received, during the Battle of Loos, on 28th September 1915. He was aged 18 and is buried in Fouquieres Churchyard Extension.
He was the son of Richard and Mary Arm Harris, of South Newington and had worked as a carter on a farm before the war.
He joined the 1st Battalion in France on 10th July 1915. On 25th September 1915 the Battalion were manning support trenches at Cuinchy on the first day of the Battle of Loos. Gas cylinders were opened at 0550 all along the front line but a change in wind direction sent it back on the British lines. The 2nd Staffs and 1st Kings attacked along La Bassee railway line, but the assault failed, and they were forced back. The Royal Berkshires relieved them and did sterling work recovering the wounded from no man's land. Private Harris was wounded at this time and died in No 6 Field Ambulance based in Fouquieres.
ERNEST HENRY LAYCOCK was serving as a Private with the 5th Battalion, The Machine Gun Corps when he died of his wounds on 14th September 1918. He was aged and is buried in Serre Road Cemetery No 2.
He was the son of John and Frances Laycock and was born in Peckham in London. In 1909 he married Alice Morey in Peckham and worked as bottler in a distillery. He enlisted into the London Regiment before joining the MGC.

HAYLOCK ETHER OWEN served as a Private with the 8th King's Royal Irish Hussars when he was killed in action on 9th August 1918. He was aged 21 and is buried in the Rosieres Communal Cemetery.
He was the son of Frederick and Louisa Owen and lived in Southcomb, Chipping Norton with his three sisters and had worked as a farm labourer before enlisting.
The Hussars had seen action in the Battle of the Somme in 1916. They returned to the Somme area in March 1917 to clear the small pockets of machine guns left by the retreating Germans. They took part in what would be the Regiment's last mounted charge at Villers-Faucon when, supported by a howitzer battery and two armoured cars, attacked a heavily defended German positions. In March 1918 they were transferred to the 9th Cavalry Brigade, the 9th Cavalary Division. The Germans began to collapse soon after the allies began their final offensive in August, the 8th fighting at St Quentin and Beaurevoir. On 9th August 1918 they were in the French village of Caix. At 1100 they would ordered to follow the infantry up on an attack to retake Rosieres, captured in the Spring German Offensive in March. Private Owen was one of two men killed in the attack.
He is also remembered on the Chipping Norton memorials.
FREDERICK JOHN TOVEY was serving as a Private in the 1st Battalion, The Coldstream Guards when he was killed in action on 25th January 1915. He was aged 16 and is commemorated on Le Touret Memorial for those with no known grave.
He was the son of John and Jane Tovey of Walk Cottages, Heythrop and worked as a farm labourer before enlisting.
He joined the Coldstream Guards underage at 15, in January 1914 and arrived with his battalion on 1st November 1914. They took part in winter operations against German positions in the Ypres area 1914/15 during which Private Tovey was killed in action.
ARTHUR WILLIAM WEST was serving as a Private in "A" Company the 1st/4th Battalion, The Duke of Wellington's (West Riding Regiment) when he was killed in action during the Third Battle of Ypres, on 9th October 1917. He was aged 24 and is buried in Dochy Farm New British Cemetery in Belgium.
He was the son of William and Ellen West, of Heythrop and had worked as a labourer before the war.
The 1st/4th was a Territorial Battalion which arrived in France on 14th April 1915, under the orders of the 49th (West Riding) Division. They saw action in various phases of the Battle of the Somme in 1916. On 9th October 1917 the Battalion was engaged in an attack made by II Anzac Corps on the Passchendaele Ridge, as part of the Battle of Poelcapelle, a phase of the Third Ypres. Kept in reserve in the morning they went forward to reinforce elements of the West Yorkshire Regiment at 1100. Passing through men of 47th Brigade they occupied and consolidated captured trenches and held then until relived the following day by 3rd New Zealand Brigade. Private West was on of 8 men in his company killed that day, cut down by machine gun fire during the advance. He was initially buried on the battlefield but re-interred in 1919.
SECOND WORLD WAR
DAVID RICHARD LEE BEVAN was serving as a Sub-Lieutenant, The Royal Navy on HMS Neptune when he was killed in action on 19th December 1941. He was aged 2o and is commemorated on the Plymouth Naval Memorial for those lost at sea.
He was the son of Captain Robert Hesketh Bevan and Margaret Frances Bevan, of Heythrop. His father had a distinguished naval career serving at the Battle of Jutland in World War One and commanding the Royal New Zealand Navy cruiser Leander in World War Two, see below.
David Bevan was serving aboard HMS Neptune, another Leander class light cruiser, (below).
In December 1939, several months after war was declared, Neptune was patrolling in the South Atlantic in pursuit of German surface raider the Admiral Graf Spee. Neptune, with other patrolling Royal Navy heavy units, was sent to Uruguay in the aftermath of the Battle of the River Plate, but she was still in transit when the Germans scuttled Graf Spee on 17th December. Neptune was the first British ship to spot the Italian Fleet in the Battale of Calabria on 9th July 1940. During the subsequent engagement, she was hit by the Italian light cruiser Giuseppe Garibaldi damaging her float plane beyond repair, its wreckage being thrown into the sea. Minutes later her main guns struck the heavy cruise Bolanza three times, inflicting some damage on her.
During 1941, she led Force K, a raiding squadron of cruisers. Their task was to intercept and destroy German and Italian convoys en route to Libya. Force K was sent out on 18th December 1941, to intercept a convoy bound for Tripoli. On the night of 19th/20th December, Neptune, leading the line, struck two mines, part of a newly laid Italian minefield. The first struck the anti-mine screen, causing no damage. The second struck the bow hull. The other cruisers present, Aurora and Penelope also struck mines. While reversing out of the minefield, Neptune struck a third mine, which took off her propellers and left her dead in the water. Aurora was unable to render assistance as she was already down to 10 knots and needed to turn back to Malta. Penelope was also unable to assist. The destroyers Kandahar and Lively were sent into the minefield to attempt a tow. The former struck a mine and began drifting. Neptune then signalled for Lively to keep clear. Neptune hit a fourth mine and quickly capsized, killing 737 crew members. The other 30 initially survived the sinking but they too died. As a result, only one was still alive when their float was recovered later by an Italian torpedo boat.
NICHOLAS JOHN STOCKFORD was serving as a Sergeant with the Royal Air Force when he died of pleurisy on 18th September 1944. He was aged 22 and is buried in Heythrop St Nicholas Churchyard.
Nicholas John Stockford was born in Steeple Barton in March 1922, to parents George and Elizabeth Stockford, who ran a grocery shop in the village. He attended Chipping Norton County School between 1933 and 1938 and joined the RAF as an engineering apprentice on leaving school aged 16. Between October 1940 and October 1943 he served in South Africa as an engine fitter, returning to England to train for flying duties and was posted to 207 Squadron as a Flight Engineer, with the rank of Sergeant.
On the night of 3rd May 1944 he took off aboard Lancaster EM-F ND556 of 207 Squadron, at 2205. The target was a massive German military camp situated near the village of Mailly-le-Camp that consisted of 20,000 troops and a Panzer Division of tanks. Nineteen squadrons of Lancaster bombers were involved, 346 aeroplanes in total, plus 14 Mosquitos, dropping a total of 1,500 tons of bombs and causing considerable damage to enemy weapons and equipment and virtually wiping out the entire Panzer division. Although the target was accurately marked, communication difficulties led to a delay in the main force attack, during which Luftwaffe fighters intercepted the force and claimed 42 Lancasters (11.6% of the total force). Three hundred personnel were either killed or reported as missing. ND556 was attacked by German Focke-Wulf 190 night fighters, evading one but falling to a second, the dinghy hatch was blown off, the bomb bay was hit and a fire started. The stricken Lancaster crashed at Chaintreaux in Seine-et-Marne, the pilot Flight Sergeant Leslie Lissette RNZAF remained at the controls, allowing the rest of the crew to bale out. He was critically injured and died in a French hospital. He shares a grave in Chaintreaux with the rear gunner Sergeant Ronald Ellis, who lived in Duns Tew.
The crew of Lancaster ND566 Back: Sergeant Ron Emeny (mid-upper gunner), Sergeant Laurie Wesley (bomb aimer), Flight Sergeant Jack Pittwood (navigator) Sergeant Nick Stockford (flight engineer). Front: Sergeant Ron Ellis (tail gunner), Flight Sergeant Leslie Lissette (pilot) and Sergeant Philip King (wireless operator).
Nicholas Stockford returned home via the "Comet Line" escape route over the Pyrenees and into Portugal. On the night of 14th/15th July 1944 he arrived at Whitchurch Airport, near Bristol on a civil airliner from Lisbon. His papers were made out for a John White a civilian escapee from Vittel internment camp in France. He revealed his true identity to the security guard.
On 8th August 1944 he married Joyce Jones, of Heythrop, at Chipping Norton Methodist Church, living at 30, Spring Street, Chipping Norton. He tragically died suddenly from pleurisy at RAF Longtown near Carlisle on 18th September 1944 aged 22.
He is remembered on Chipping Norton's town and church memorial on the Heythrop war memorial. He buried in Heythrop St Nicholas Churchyard.
RICHARD FREDERICK SUMNER was serving as a Warrant Officer with the Royal Air Force when he died at Chase Farm, Enfield Hospital on 28th August 1945. He was aged 32 and is buried in Heythrop St Nicholas Churchyard.
He was the son of George Ward Sumner and Mabel Sumner and the husband of Viola Margaret Sumner, of Dunthrop.
JOHN ARTHUR SWORD DFC AFC was serving as a Flight Lieutenant, Pilot, with 115 Squadron, The Royal Air Force when he was killed in action on 7th May 1942. He was aged 23 and is buried in Rheinberg War Cemetery in Germany.
He was the son of Arthur Nicholson and Margaret Sword of Chivel Farm, Heythrop. His father was a farmer and also a rancher in Argentina. On 16th December 1941 he married Pauline Bevan, known as Polly, in St Nicholas Church in Heythrop. Polly was the sister of David Bevan who died on HMS Neptune in 1942. They lived at the Dower House in Heythrop.
He joined the Royal Air Force Volunteer Reserve and trained as a pilot and was posted to 115 Squadron, flying the Vickers Wellington MkIII from RAF Mildenhall and then from East Wretham in Norfolk. He was awarded the Distinguished Flying Cross, his citation reads:
One night in April, 1942, this officer was captain of an aircraft which took part in an attack on the Matford factory at Poissy. In spite of heavy enemy opposition, he attacked from a low level and scored several hits with his bombs. Afterwards, Flight Lieutenant Sword remained in the area until the attack had been completed by the main force and then made a further 5 runs over the target area and obtained some excellent photographs. This officer, who has carried out a considerable number of operational sorties, has invariably displayed courage and determination of a high order.
On 6th May 1942 he was the pilot of Vickers Wellington Mk III 395` K-OK which took of from RAF Marham at 2141, one of 121 bombers dispatched on a raid to Stuttgart. His aircraft was hit by anti-aircraft fire and all 6 crew members successfully bailed out. Sadly Flight Lieutenant Sword and Flight Sergeant Harold Batty, the Observer, both fell to their deaths due to insecure parachute webbing. He was originally buried at Alzey in Germany but re-interred in 1948.
MEN WHO SERVED IN THE FIRST WORLD WAR
ROBERT HESKETH BEVAN was born in July 1892 in Blackmore, Hampshire to parents Richard and Frances Bevan, his father being a clergyman. The family later moved to Hurstpeirpoint in Sussex. He joined the Royal Navy College at Dartmouth on 31st December 1906 and passed out as a Midshipman on 15th September 1909. He joined the battleship HMS Commonwealth then in November 1910 the armoured cruiser HMS Cochrane, both serving on the home fleet. In September 1911 he joined the crew of another armoured cruiser HMS Good Hope serving as flagship with the 6th Cruiser Squadron in the Mediterranean. He then transferred to another light cruiser in the Med, HMS Medea, below, on 10th October 1912 as a Sub-Lieutenant.
In October 1913 he joined the armoured cruiser HMS Duke of Edinburgh in the Mediterranean, and was promoted to Lieutenant. When the First World War began she participated in the pursuit of the German battlecruiser SMS Goeben and light cruiser SMS Breslau. After the German ships reached Ottoman waters, the ship was sent to the Red Sea in mid-August to protect troop convoys arriving from India. Duke of Edinburgh was transferred to the Grand Fleet in home waters in December 1914. On 20th April 1915 he was transferred to the battleship HMS Hercules, below,also part of the Grand Fleet now based at Scapa Flow.
Throughout 1915 she carried out patrols and gunnery drills in the North Sea. On 21st May 1916 Lieutenant Bevan was aboard her during the Battle of Jutland. Hercules was the twenty-third ship (or second from the rear) from the head of the battle line after deployment as part of the 6th Division of the 1st BS. During the first stage of the general engagement, the ship was straddled by five shells fired by a German dreadnought at 1816. Shortly afterward, she fired at the crippled light cruiser SMS Wiesbaden. Hercules engaged a German dreadnought beginning at 1825 with seven or eight salvos of her own. The poor visibility greatly hampered her return fire and was a problem for the entire battle. At 1912, the ship opened fire at the battlecruiser SMS Seydlitz, and scored two hits. About five to ten minutes later, she engaged several German destroyer flotillas with a few salvos from her main armament without result. Hercules was then forced to turn away to avoid several torpedoes, one of which was believed to have passed very close. Marlborough, flagship of the division, was hit by a torpedo and forced to reduce speed, which caused the division to fall behind the main body of the Grand Fleet. They did not rejoin until the afternoon of 1st June, as the fleet was headed for home.
He left Hercules on 4th June 1917 and was posted to HMS Excellent gunnery school at Portsmouth for a gunnery course. Whilst based ashore he married Margaret Luard in London on 27th December 1917. He joined the battleship HMS Monarch on 14th December 1918 as gunnery officer until 19th December 1919 when he went on a further gunnery course. He was promoted Lieutenant-Commander and on 1st July 1921 he joined the light cruiser HMS Lowestoft as gunnery officer, later becoming fleet gunnery officer based in Chatham, serving on her to July 1923. His next ship on 25th July 1924 was the battleship HMS Marlborough, below, joining her as gunnery officer. She served with the 3rd Battle Squadron in the Atlantic Fleet and his was with her until September 1926.
He then served in the Department of the Director of Naval Ordnance in Edinburgh between November 1926 and February 1928, being promoted to Commander in June 1927. Between May 1929 and February 1931 he served in Greece with the British Naval Mission. in December 1931 he joined the County class heavy cruiser HMS Cumberland as Executive Officer. Serving on the China Station with the 5th Cruiser Squadron he left her in September 1932. He then took command of the sloop HMS Penzance, below, in March 1933, based in the Red Sea.
He left the ship in May 1935 and was promoted Captain in June 1936 taking up a post as Naval Attache in Rome in August that year where he stayed until returning to England in October 1938. A senior officers war course and a position in the Admiralty in Director of Operations (foreign) followed from September 1939. Whilst in this post he earned an expression of The Lord's of the Admiralty's displeasure added to his record by failing to ensure a signal from the Naval Attache in Madrid regarding the passage of French warships through the Straits of Gibraltar reached the proper authorities.
On 23rd September 1940 he was lent to the Royal New Zealand Navy taking command of the cruiser HMNZS Leander, below, on 27th November.
In action on 27th February 1941, HMNZS Leander sank the Italian armed merchantman Ramb I near the Maldives, rescuing 113 of her crew. In March 1941 Captain Bevan planned a search in which the German ship Coburg and the captured tanker Kitty Brovig, which was being used to the enemy Raiders, ween sunk by HMAS Canberra with Leander in support. On 23rd March 1941, Leander intercepted and captured the Vichy French merchant Charles L.D. in the Indian Ocean between Mauritius and Madagascar. On 14th April, Leander deployed for support of military operations in Persian Gulf and, on 18th April, joined the aircraft carrier Hermes and the light cruiser Emerald. On 22th April, Leander was released from support duties in the Persian Gulf and took part in search for German raider Pinguin south of the Maldives. In June 1941, Leander was transferred to the Mediterranean Fleet and was active against the Vichy French during the Syria-Lebanon Campaign.
In February 1943 Captain Bevan was forced to relinquish command of Leander as he had contracted Tuberculosis. He returned home to the UK for treatment. Commodore Sir Atwell Lake, Chief of the Royal New Zealand Naval staff wrote of him:
"It is due to Captain Bevan's leadership and personality that HMNZS Leander is an efficient fighting unit"
On 18th December 1943 he became Captain-in -charge of HMS Osprey, the anti-submarine training school at Dunoon in Scotland. On 31st August 1944 he became Commanding Officer of HMS Collingwood, the training establishment in Fareham. He also served as Naval Aide-de- Camp to the King before retiring on 20th April 1946.
He had moved to Heythrop and his wife was living there when his only son David was killed in action on HMS Neptune, another Leander class cruiser on 19th December 1941. He died on 28th October 1964 in Yeovil aged 72.
ALBERT EDWARD PANTING was born at Castle Farm, Heythrop to parents Thomas and Sarah Panting, having been born in June 1899. He enlisted into the Oxfordshire and Buckinghamshire Light Infantry in Oxford on 7th August 1915, giving his age as 19 years and 2 months, he was actually 16 years and two months. He was posted to the 3rd (Depot) Battalion and served at home until 3rd November 1916 when he embarked at Devonport, bound for Salonica. He joined the 7th Battalion, Ox & Bucks in the field on 15th December 1916. On 11th March he got himself into trouble after making "an improper reply to an NCO" and was sentenced to 21 days field punishment No1, which involved the convicted man being placed in fetters and handcuffs or similar restraints and attached to a fixed object, such as a gun wheel or a fence post, for up to two hours per day. The Battalion, as part of the 26th Division fought in the Battle of Dorian on 24th and 25th April 1917 and again from 8th May. Private Panting received gun shot wounds to both thighs on the following day and was evacuated to 36th Casualty Clearing Station then on to hospital in Salonica. He was then put aboard a Hospital Ship and transferred to the Tigne Hospital in Malta, arriving on 24th August 1917.
In the meantime Private Panting's real age had come to light and a letter had been sent to the 7th Battalion's Commanding Officer instructing that he should be attached to a Training School until he attained the age of 19. The letter arrived after Private Panting being wounded in action and after recovery he returned to Salonica on 28th January 1918 and joined No 1 Base Training Camp. He rejoined his Battalion on 11th June 1918, remaining in Salonika until 30th March 1919 when he embarked for England for demobilization. He was placed in the "Z" Reserves, formed in case Germany broke the terms of the Armistice until 1921 when the force was disbanded.
He married Dorothy Stevens in 1937 and was living at The Lane, Enstone when he died in January 1950, aged 50.