Sibford Gower is a village and civil parish about 6 1/2 miles west of Banbury in Oxfordshire, on the north side of the Sib valley, opposite Sibford Ferris. Sibford Gower parish includes the village of Burdrop. Sibford Ferris was the scene of a Vickers Wellington crash in 1941, see below.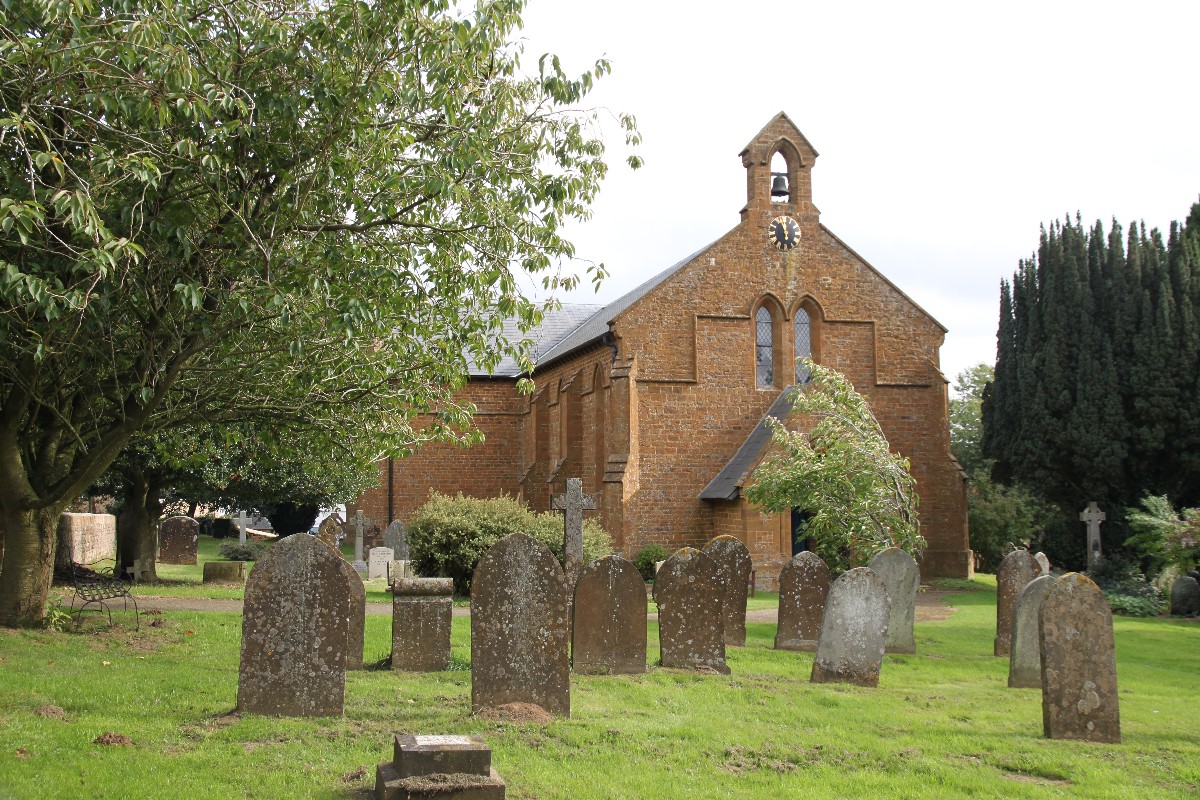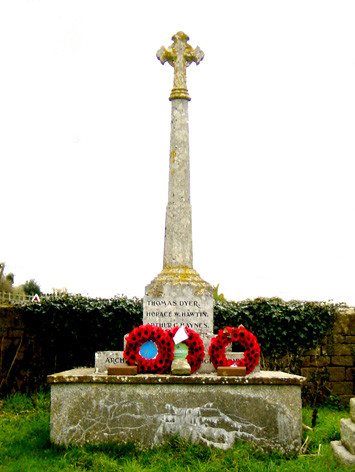 FIRST WORLD WAR
WILLIAM JOHN BARTON was serving as an Driver (Motor Transport) with The Royal Air Force when he died of his wounds on 5th June 1918. He was 22 and is buried in Sibford Gower Holy Trinity churchyard.
William Barton was born in April 1896 to parents John and Julia Barton of Sibford Gower and had worked as an errand boy prior to the war. He enlisted in the Royal Flying Corps on 26th February 1917, being transferred into the RAF on its formation on 1st April 1918. He was posted to 42 Squadron RFC in Italy as a Driver, with the rank Air Mechanic 2nd class on 21st December 1917. The squadron left Italy on 1st March 1918 and he was wounded on 11th April 1918. He was evacuated home and died in 3rd Western General Hospital in Cardiff.
GEORGE BODFISH was serving as a Lance-Corporal with 2/4th Battalion, The Oxfordshire & Buckinghamshire Light Infantry when he died, on 12th April 1918, of wounds received during the Lys Offensive. He was 36 and is buried at Hangard Communual Cemetey Extension.
George Bodfish was the son, one of eight children, of George and Mary Bodfish of Sibford Ferris. He worked as a farm labourer and in 1917 he married Sarah Dumbleton and they lived at Albert cottages in Hook Norton.
The 2/4th Ox & Bucks was a Territorial battalion that had arrived in France in May 1916. They suffered heavy casualties during the German Spring Offensive in March 1918 when their lines were overrun. They retreated behind the Somme river and were involved in heavy fighting to defend Amiens. George Bodfish was wounded and taken prisoner, he died in a German field hospital based in Vermand. Originally buried in Harbonnieres German Military Cemetery, his body was re-interred in 1919.
THOMAS HENRY BORSBERRY was serving as a Private in the 5th Battalion, The Oxfordshire & Buckinghamshire Light Infantry when he was killed in action during the second attack on Bellewaarde on 25th September 1915. He was aged 29 and is commemorated on the Ypres Menin Gate Memorial, having no known grave.
Thomas Borsberry was born in Hook Norton in 1886 and worked as a farm labourer.
He arrived with the 5th Battalion, one of Kitchener's new armies, in Boulogne on 20th May 1915, part of the 14th (Light) Division. After various training and providing working parties in the Ypres area, the 5th Ox. and Bucks. went into the trenches for familiarization in June 1915, and thereafter in June and into July were in trenches in the Ypres area as well as providing working parties when not in the front line. They alternated in the line with the 5th King's Shropshire Light Infantry. On 25th September 1915 the 14th Division was tasked in making another attack on Bellewaarde, as a diversion to the Battle of the Somme. The assault started badly as one of four guns putting down an artillery barrage was firing short, hitting our trenches and causing 36 casualties. The Division advanced at 0420 and some objectives were taken. However German artillery took a great toll and a counter attack forced them back. The Battalion took 449 casualties, killed, missing and wounded, with Private Borsberry missing, later presumed dead.
HORACE BURDEN was serving as an Officers Steward 1st Class on HMS Princess Irene with the Royal Navy when he was killed in an explosion on 27th May 1915. He was 29 and is commemorated on the Chatham Memorial as his body was never recovered. He is not on the village memorial but remembered on a plaque inside Sibford Gower Holy Trinity Church.
Horace Burden was born in Brailles in 1886 to parents George and Emma Burden, but moved to Sibford Gower at a young age.
He signed on with the Royal Navy on 17th April 1910, training on the shore bases Vulcan, Neptune and Victory. He joined the crew of the new Active class scout cruiser HMS Fearless (below) on 14th October 1913 as an Officer's Steward.
Between February 1914 and March 1915 he served aboard the cruiser HMS Naiad, which had been converted for mine-laying duties. On 9th March 1915 he joined HMS Princess Irene at Sheerness. HMS Princess Irene was a 5,394 ton ocean liner which was built in 1914 for the Canadian Pacific Railway. She was requisitioned by the Royal Navy on completion and converted to an auxiliary minelayer.
On 27 May 1915, she exploded and sank off Sheerness, Kent with the loss of 352 lives. In May 1915, Princess Irene was moored in Saltpan Reach, on the Medway Estuary between Port Victoria and Sheerness, being loaded with mines in preparation for deployment on a minelaying mission. At 1113 on 27 May, Princess Irene exploded and disintegrated. A column of flame 300 feet high was followed a few seconds later by another of similar height and a pall of smoke hung over the spot where Princess Irene had been, reaching to 1,200 feet. Two barges laying alongside her were also destroyed. A total of 352 people were killed, including 273 officers and men, and 76 dockyard workers who were on board Princess Irene. On the Isle of Grain a girl of nine was killed by flying débris, and a farmhand died of shock. A collier half a mile away had its crane blown off its mountings. A part of one of Princess Irene's boilers landed on the ship and a man working on the ship died from injuries sustained when he was struck by a piece of metal weighing 70 pounds. Wreckage was flung up to 20 miles away, with people near Sittingbourne being injured by flying débris. Severed heads were found at Hartlip and on the Isle of Grain. A case of butter landed at Rainham 6 miles away, while a 10 ton section of the ship landed on the Isle of Grain, damaging naval oil storage tanks there. The sole survivor from Princes Irene was a stoker, who suffered severe burns but was thrown clear. Three of her crew had a lucky escape as they were ashore at the time.
THOMAS DYER was serving as a Private in 12th (Service) Battalion, The Duke of Cambridge's Own Middlesex Regiment when he was killed in action on 29th December 1915 aged 21. He is buried in Meaulte Military Cemetery in the Somme.
Thomas Dyer was born in Sibford Ferris in 1896 to parents John and Annie Dyer. At the time of his enlistment he was living at 6, The Colony in Sibford Ferris and working as a farm labourer.
He had previously served with the 10th Prince of Wales Own Royal Hussars. He landed with the 12th Middlesex in Le Havre on 26th July 1915, under the orders of the 18th Eastern Division. He was killed in action during winter operations in the Somme area.
HORACE WILLIAM HAWTIN was serving as a Private in the 11th (Service) Battalion, The Queen's Royal West Surrey Regiment when he died of wounds received on 10th October 1918, during the final advance in Flanders. He was aged 21 and is buried in Lijssenthoek Military Cemetery.
Horace Hawtin was born in Sibford Ferris in 1897 to parents William and Caroline Hawtin, one of 6 children.
He had enlisted into tThe Oxfordshire & Buckinghamshire Light Infantry in Banbury and joined the Wast Surreys in France.
ARTHUR CHARLES HAYNES was serving as a Driver with "C" Battery, 68th Brigade, The Royal Field Artillery when he died of illness, in 51 General Hospital in Alexandria, on 24th January 1918. He was aged 27 and is buried in Alexandria Hadra War Memorial Cemetery.
Arthur Haynes was born in 1891 in Sibford Ferris to parents Arthur and Jane Haynes and had worked as a farm labourer before the war.
HARRY LINES was serving as a Private with the 2nd Battalion, the South Staffordshire Regiment when he was killed in action on 30th August 1918 during the Second Battle of the Somme. He was aged 22 and is buried in Orival Wood Cemetery, Flesquières in Northern France.
Harry Lines was born in Sibford Ferris to parents Albert and Mary Lines. He was lodging with his uncle in Dudley Road, Birmingham and working as a bailing porter. He was living in Selston, Nottingham when he enlisted into The Prince of Wales's North Staffordshire Regiment. He joined the South Staffords in France.
CHARLES DAVID WADE was serving as Private in the 3rd Battalion, 1st Central Ontario Regiment, the Canadian Infantry when he died of his wounds on 10th August 1918. He was aged 23 and is buried in Crouy British Cemetery in the Somme region.
He was the son of Charles and Emma Wade of Battersea, London and had worked as a general messenger after leaving school. He then went onto work for the pageant master and artist, Frank Lascalles of Sibford Gower as an assistant secretary. On 23rd October 1915 he accompanied Lascelles to New York, sailing on the SS New York from Liverpool. He resided at 423 West 22nd Street in New York, working as a motion picture operator.
In August 1917 he crossed the border via Niagara Falls into Canada to enlist into the Canadian Infantry in Toronto on 25th. After training he was posted to the 3rd Battalion, joining the 3rd Canadian Division in France. He was wounded during the Battle of Amiens, known as "the black day of the German Army" He died in No 5 Casualty Clearing Station at Crouy.
On the village war memorial his christian names have been reversed.
WILLIAM HENRY WEBB was serving as a Private in the 2nd Battalion, The Duke of Edinburgh's Wiltshire Regiment when he died of wounds received on 5th December 1917. He was aged 20 and is buried in Outtersteene Communal Cemetery Extension, Bailleul, Northern France.
William Webb was born in Sibford Ferris in 1897 to parents John and Mary Webb and before enlistment worked as a farm labourer. He had enlisted in the in the 4th Territorial Battalion, The Oxfordshire & Buckinghamshire Light Infantry in Oxford in 1915 and as part of the 2nd/4th Battalion arrived in France on 21st May 1916. They were involved in the Battle of Fromelles, a diversionary attack for the Somme Offensive. on 19th July 1916. With the inexperienced troops attacking in daylight against an experienced, well-set enemy, who outnumbered them two to one, the attack was a disaster.
He transferred to the 2nd Battalion The Wiltshire Regiment and in 1917 cautiously pursued the Germans as they withdrew to pre-prepared defensive fortifications on the Hindenburg Line. They were in action from 9th April in the First and Second Battles of the Scarpe, part of the Arras Offensive. On 31st July 1917 they took part in the Battle of Pickelm Ridge, the first phase of the Third Battle of Ypres. He was killed in action by a shell whilst holding the line on the Ypres Salient and died in a Casualty Clearing Station in Outtersteene.

SECOND WORLD WAR
ARCHIE BERTRAM KAYE was serving as a Lance Corporal with the 2nd Battalion, The Gloucestershire Regiment when he was killed in action some time between 10th May and 30th June 1940. He was 26 and is buried in Malo-Les- Bains Communal Cemetery, east of Dunkirk. The Gloucester Regiment had been invoved in The Battle of France and taken part in the defensive screen covering the Dunkirk evacuation. In the chaos and destruction many of the allied dead were left on the field to be buried later, often by local people and this accounts for the uncertainty of the date of his death.
Archie Kaye was born in Sibford Ferris in 1914 to parents the son of William and Jane Kaye. In 1938 he married Dorothy Hepworth and they lived in Epwell, in 1939 he was working for the GPO in Banbury. They had a daughter, born in early 1940. He is also remembered on Epwell village war memorial.
MAJOR HUGH ODDIE was serving as a Flying Officer (Pilot) with 78 Squadron, Royal Air Force Volunteer Reserve when he was killed in action on 26th June 1943. He was aged 28 and is buried in Bergen General Cemetery in Noord-Holland.
Major Hugh Oddie was born in 1914 the son of Major Sidney and Mary Ethel Oddie, of Thurlstones, Backside Lane, Sibford Gower. He was educated at Lancing College where he was a House Captain in 1931. In 1932 he went on to Sidney Sussex College Cambridge where he achieved a BA Hons.
He was commissioned as a Pilot Officer in the Royal Air Force Volunteer Reserve on the 4th of November 1941 and was promoted to Flying Officer on the 1st of October 1942.
He took off from RAF Breighton in Handley Page Halifax JB928 EY-S at 2340 on the 25th of June 1943 for an operation on Gelsenkirchen which was noted for its oil refineries. In all 214 Lancasters, 134 Halifaxes, 73 Stirlings, 4 Wellingtons and 12 Mosquitos were dispatched for the first raid on the town in two years. After crossing the Dutch coast the bomber stream encountered 10/10ths cloud all the way to the target which prevented the bombers making a concentrated attack and as a result, only minor damage was achieved. During this mission Oddie's aircraft was attacked by a German night fighter, piloted by Major Rolf Luchs of 11/NJG1, and the aircraft crashed at 0051 on the 26th of June on the Bergenseweg between Alkmaar and Bergen in Northern Holland.

The crew were all taken prisoner with the exception of Flying Officer Oddie who died. Bomber Command lost 30 aircraft on this mission with 118 crew killed, 50 missing and 36 taken prisoner.

Major Hugh Oddie is also commemorated on Uckfield, Sussex war memorial.
VICKERS WELLINGTON CRASH 1941
On 7th December 1941 Vickers Wellington Mk1C Z1089 OF 21 Operational Training Unit took off from RAF Moreton in Marsh at 1800 on a cross-country training flight. At the controls were Sergeant James Hubbard aged 20, who had joined the RAF in 1937 and had completed several missions over Germany and Pilot Officer Kenneth Watson of the volunteer reserve who had been commissioned in August 1941. The aircraft was flying south over the Sibford area at about 1830 when a freak snowstorm was encountered and entering low cloud experienced severe icing. With static blocking out all wireless signals the crew began to descend to ascertain their position. It passed over the main Banbury-Shipston Road at about 10-12 feet, witnessed by Pilot officers Gabriel and Bright from RAF Shenington, who were walking along the road at the time. The aircraft then hit a telegraph pole at the top of Pitch Hill, gained a little height before the starboard wing dropped and the plane spun and crashed in a field about 500 yards from the two RAF Officers. On impact the aircraft broke in two and burst into flames.
The stricken aircraft lay in a field between Sibford Elm and Burdrop and the two RAF Officers ran 500 yards to reach it, they saw a crew mwmber moving near the wireless operator's position and as they drew near the starboard petrol tank exploded setting the surrounding grass on fire. after several attempts the two Pilot Officers managed to rescue the badly injured and burnt airman. They had just got the man clear of the fuselage when the port fuel tanks exploded, spraying the area with burning fuel. They were joined by the local policeman PC Leslie Simmons and together they extinguished the burning clothing on the airman, Sergeant John Martin the observer, and carried him to the local doctor's house. whilst this was taking place the anmmunition and oxygen bottles were exploding in the intense heat and the plane and surrounding area was fiercely ablaze, the glow of the flames could be seen for miles. Another airman was discovered wandering in the field, concussed and in a state of shock, He was Sergeant Robert Newton the rear gunner and he too was taken to the doctor's house.
As the crash had taken down the telegraph wires a car driver was asked to drive to Banbury and alert police and ambulance. The Hook Norton Fire Brigade arrived at 1940 and eventually extinguished the burning aircraft. Later in the evening PC Simmonds and three other policeman assisted by the medical officer from RAF Edgehill extracted four burnt and unrecognisable bodies from the wreckage, they were taken to a nearby farm to await the arrival of the coroner the following afternoon. An RAF guard from Edgehill as posted throughout the night.
The crew members who died that night were;
Pilot Officer Kenneth Wilfred Watson, Pilot, Royal Air Force Volunteer Reserve aged 22. He was the son of Thomas and Esther Watson of Sheffield and is buried in Moreton in Marsh New Cemetery.
Sergeant James William Hubbard, Pilot, Royal Air Force, aged 20. He was the son of James and Mabel Hubbard of Chartham. Kent and is buried in Chartham Cemetery.
Sergeant Edwin Stephen John Toye Medder, Wireless Operator/Air Gunner Royal Air Force Volunteer Reserve aged 26. He was the son of Edwin and Eda Medder of Plymouth and is buried in Whitchurch Cemetery in West Devon.
Sergeant Christopher George Tierney, Wireless Operator/Air Gunner Royal Air Force Volunteer Reserve aged 21. He was the son of Hugh and Ellen Tierney of Thornton Heath, Surrey and is buried in Moreton in Marsh New Cemetery.
Those who survived were;
Sergeant John Martin, Observer aged 23
Sergeant Robert Newton. Air Gunner aged 23
One of their rescuers, the then Pilot Officer, John Alexander Bright was serving as a Flight Lieutenant, Flight Engineer, when his Lancaster crashed into the sea during a mission to bomb Wilhelmshaven on 18/19th February 1943. He is commemorated on the Runnymede Memorial.